For every birthday, you always want to come up with something unique. But finding something special can always be a challenge, especially when you don't want to spend a lot of money on birthday party activities. It doesn't have to be expensive to have a fun time. The idea of celebrating a birthday party for your children makes you wonder how to get started.. Choosing the right venue is the first step to making your children's party a successful and memorable one.


Los Virtuality – Virtual Reality Gaming Center has 10 VR gaming stations that allow 10 kids to play at a time. If you have a large party with more than 10 children, it's not a problem, the kids love watching the games on the large screens while they're waiting for their turns. The friendly staff will manage all the guests to make sure everyone has enough time to enjoy VR games. Los Virtuality has a lot of VR games and experience and it's appropriate for kids starting at 7th years old. It's a BYOB (bring your own beverages) party, parents are welcome to bring food and drinks or hire a catering company. Let us know if you need to download any new virtual reality games or experiences for your birthday celebration. We have many modern VR headsets, so we can accommodate large groups at a Los Virtuality virtual reality birthday party.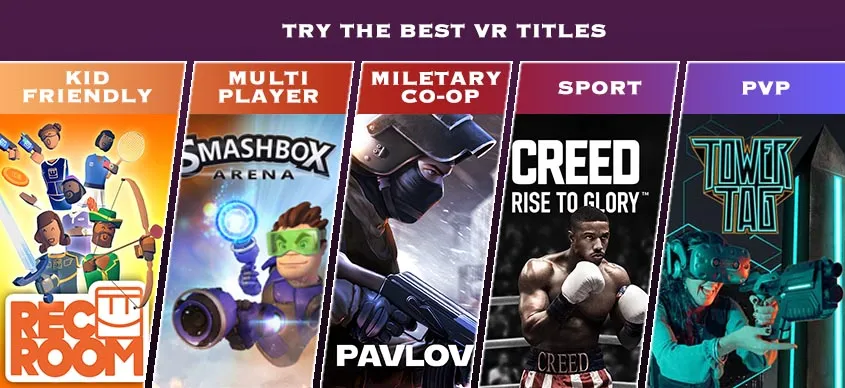 We also offer the best VR experiences for kids to play together as team members or compete against each other. Regardless of the age of the guests, planning a birthday party is difficult. A fun, unique, safe, and manageable party for you as a parent can be challenging to put together. As a child, it can be difficult for you and your friends to find an activity that everyone can enjoy. At Losvirtuality we accept last-minute VR birthday parties! Our unique VR experiences will make your guests remember your event for years. You can choose different durations for your party with a minimum time of 1 hour. The best option for a group of 20 people is a 2-hour package. If your group is more than 20 people, we recommend to chose the 3-hour package. Also, you can rent our gaming center for the whole day. As soon as you wear the VR headset, you can start playing immediately. Other participants will see the player's vision projected on a screen. Let's start with the best kid's birthday party ideas.
VR Kids Birthday Party in Los Angeles

VR birthday parties are a popular choice because of the many games and activities that can be used for children's parties and the fun that can be added to a traditional birthday celebration. It'll be a hit with kids and their parents alike! It's only a problem if your kids ask you to buy them a virtual reality headset after they've tried it out once. If you or your child want to purchase a VR headset, please let us make recommendations based on your budget, desired capacity, desired resolution, and other factors. For a modern, state-of-the-art activity for your kid's birthday party, our virtual reality birthday party in Los Angeles is the best option!