Virtual reality (VR) is the modern and most exciting technology on the market today. When you walk down the street, you'll see people talking about virtual reality. Now is the time to bring virtual reality to your next event because of all the excitement surrounding it. Businesses that want their event attendees to have a good time, make lasting memories, and talk about the event afterward will appreciate this unique experience. Just look at the details below to see where the best virtual reality rental for events is. Los virtuality – virtual reality gaming center is an excellent starting point if you look for a VR rental for your next event. We will cover everything you need to know to fully understand how the popular virtual reality rental can benefit your business and engage your visitors during this whole journey.
A Wide Variety of VR Rental Options Are Available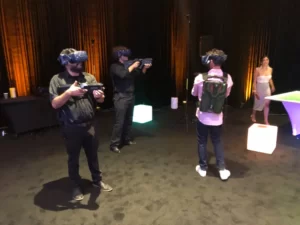 It's exciting to see what kinds of experiences you can have in virtual reality rentals, and the options are endless. The following are some of the most popular choices for our clients:
Parties
Who wouldn't want a virtual reality booth at their next party? If the party is already entertaining, virtual reality will only enhance it as people laugh hysterically and swing their hands around while wearing a virtual reality headset. You can at least escape into some fantastic virtual reality experiences if the party is a bore for a little while.
Trade shows are the best way to meet new people
Because the competition for attendees' attention at trade shows and conferences is fierce, you must make a strategy for attracting attendees' attention and making your company stand out. Virtual Reality booths are an excellent way to pique people's interest because they allow them to experience VR for themselves and laugh with their coworkers as they do so. Our team of virtual reality experts is trained to assist your staff in attracting the attention of passersby, wowing them with an incredible virtual reality experience, and then handing them off to directly engage with your team members.
Promotion of brands and products
For brand activations, product placements, product broadcasts, and content transmissions, companies are using immersive technologies such as custom 360 videos. If you're trying to connect with your audience, you need powerful images, music, and/or narration to tell a compelling story. Using 3D to say to a story adds a powerful and memorable dimension.
Team Building
Are you fed up with dull retreats that are filled with trust falls? We can assist you in shaking up your team-building activities

by incorporating virtual reality booths into your company outing. In virtual reality, your team can collaborate to solve puzzles, compete in games, and improve their communication skills, all while having a fun time. Inquire with us about which virtual reality experiences would be a good fit for your next team-building event, and we will be happy to assist you!

Bar Mitzvah Party
Are you looking for the best Bar Mitzvah party idea? Yes, there is no best activity to bring to the party for those who enjoy video games than Virtual Reality. VR games make every Bar Mitzvah party super fun and make all the kids overexcited. Do you want to try Laser Tag in VR? We also have it!
Select the Best Virtual Reality Rentals for Events

Virtual reality is well-known, but few people have actually experienced it. Corporate event planners are looking for the most innovative and memorable entertainment services to enhance trade shows, receptions, and private events. This is why we've collaborated with a wide range of businesses and organizations to incorporate virtual reality rentals into their events! Why did people choose Los Virtuality, and why should you?
LosVirtuality team is well-versed in the field, and they've tested countless combinations of VR apparatus and content.
They have a deep understanding of the client's objectives and themes.
They know how to create virtual reality activations and stations that fit in perfectly.
Losvirtuality uses the most up-to-date technology to ensure that our guests are wowed by their virtual reality experience.
More than a thousand virtual reality (VR) events have been successfully executed across Los Angeles.
In order to ensure a memorable virtual reality rental experience, Los Virtuality works closely with clients and takes care of everything for successful implementation.
Is there any other reason why we're doing this work at all? Virtual reality is our passion! We can't wait to tell our customers and business partners how happy we are. We pride ourselves on being fun, energetic, and easy to work with with our staff. As a company, we not only pledge to deliver VR booths of the highest quality, but we'll also do so with a big grin on our faces!
Popular Event Types to Incorporate Virtual Reality:

CHILDREN'S BIRTHDAY PARTY
Are you looking for the best spot for your child's next birthday bash? Los Vitality's birthday party area features 10 VR stations jam-packed with exciting activities for children ages 6 and up, making it unlike any other.
BAR/BAT MITZVAH
Playing video games at your child's birthday party or Bar Mitzvah is a great way to get the adrenaline pumping and entertain your guests. We can convert any event space into a mobile video arcade, no matter how big or small. So put on your best VR game face and get ready for the ultimate gaming party.
TEAM BUILDING
Organize a virtual reality conference for your next corporate event! The Los Vitality team can provide an unforgettable team-building experience

for your group, whether you're celebrating a milestone, entertaining clients, strengthening bonds within your organization, or simply looking for a fun night out of the office.

VR RENTAL
Our virtual reality events are not restricted to our venue. Our professional team is available to attend any of your events or locations. Our ideology is simple and clear, no-hassle mobile Virtual Reality. The setup and service are both included. You don't have to worry about anything. Just have fun with VR! End line: We've expanded VR Rental's service area to include the entire Greater Los Angeles area. If you're planning an event outside of a major Los Angeles area, don't hesitate to contact us to let us know about it. We'll do everything possible to assist you.
Feel free to contact our event planner to tailor our services to your specific requirements: